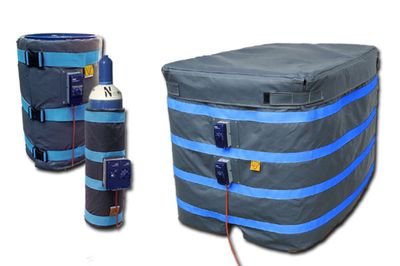 Ready-to-connect and flexible heating systems for barrels, gas bottles and IBC containers of every common producer and sizes. Also costume individualized adaption referring to dimensions, performance design, control technology and so on request.
Essential product features and advantages:
increased kind of protection way IP54 also protection class 1 ( with ground)
able to work mobile
flexibly adaptable on various diameters
specific containers, preformed for optimized fitting and simple handling
high qualitative control technology made as German productions with security function
also usable outdoor
high effective, integrated warmth insulation ( hydrophobic)
ready to be connected and in use at once. Robust industry quality with media safe PTFE (Teflon®) coating
Drum heaters
Application
Homogeneously tempering and/or liquefaction of solid or viscous media
Option: Insulation cap
To increase energy efficiency and / or to shorten the heating time, a supplementary insulating cap is available (only for Drum Heaters steel drum).
Technical data
Drum heaters steel drums / drum heaters plastic drums
Temperature range 0…120 °C und 0…65°C Supply voltage 230 V
(optional: 110 V)
Kind of protection IP54
Protection class I (with ground)
T ambience -55° … + 55° C
data sheets
Here you will find data sheets for possible versions of our products.
Other types with relevant requirements are also available offer on request.